The Centre for Recreation and Tourism Research (CRTR) at West Highland College was recently successful in securing a grant from the Northern Periphery and Arctic Programme 2014 – 2020 for a trans-national project: 'Slow Adventures in Northern Territories'.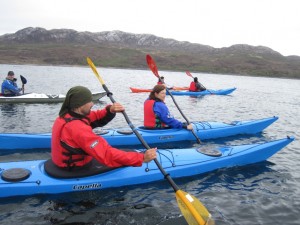 The three-year project has partners in Ireland, Finland, Norway, Iceland, Northern Ireland and Sweden, along with a wide range of regional associates. The focus will be to work with SMEs to improve their promotion of slow adventure activities and extend their marketing reach to new overseas consumers, with positive direct impacts and multiplier effects, in terms of more bed nights, stretching the seasons and extending visitors' stays.
CRTR's Director, Dr Peter Varley, commented: "This is a wonderful opportunity to place CRTR and West Highland College at the centre of adventure tourism development in northern Europe.
"Slow adventure activities draw upon ideas from the partners' cultures and histories, such as immersive journeys through natural places, drawing upon elements of wild food, comfort in the outdoors and an enhanced engagement with place. These experiences are a great way of engaging consumers with the natural and cultural capital of Northern Europe's wild areas."
"We look forward to collaborating with our international partners, and working with businesses and tourism organisations in Lochaber and the wider Highlands region to deliver tangible benefits to this important sub-sector of the Scottish economy".
For more details please contact the Project Manager, Dr Steve Taylor on 01397 874217 or at [email protected].