Creating an Inclusive Adventure Destination
Jezza Williams, Makingtrax Director & Founder
Jezza Williams is the founder & director of the Making Trax Foundation, the only independent organization dedicated to Inclusion in Adventure, Tourism & Travel.  A hardcore adventurer, he has had a lifetime in the adventure industry working in many different roles – Canyon Guide, Raft Guide, Safety Kayaker, Expedition Leader, Operations Manager, Climbing Instructor, Ski Patrol & Sailing Instructor. Since 2010, after a life-changing canyon accident, he has been a global game-changer in Inclusive Tourism & Adaptive Adventure.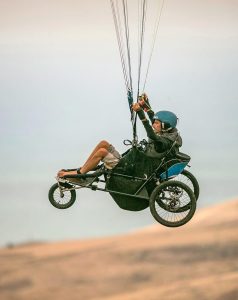 In this ever-changing world, now more than ever before, the importance of changing the story is the key to an integrated society. According to the World Health Organization (WHO), more than one billion people around the world live with some form of disability. Even in a developed nation like New Zealand over half of the population of those with disabilities are unemployed. Diversity is the only thing all humans have in common and when we embrace all abilities, everyone will have the opportunity to flourish.
People excel in challenging environments. Adventure is the ingredient for individuals to understand their limits and live to their full potential. The power of participation in adventure has benefits beyond the experience itself. Everybody on Earth has different abilities, and through challenging ourselves we grow. Pushing one's boundaries builds confidence, which in turn develops a sense of purpose. Through lived experience I personally have seen change in the outlook of not only myself and those whom I have assisted to experience adventure but also throughout the industry, including adventure operators and society.
The stats do not paint the big picture as we must also consider an aging population (baby boomers), our modern living obesity population, those that have temporary injuries, pregnant women or with children in prams, and all their friends and families that they travel with. Yet in this modern world we are still struggling to understand the value and concept of accessible and inclusive tourism.
Accessible and inclusive tourism may seem to most as the same thing however they are very different. Accessible tourism in the adventure industry relates to manmade infrastructure including tracks and trails, toilet facilities, wharf or jetties, beach access mats, boat accessibility etc. Inclusive tourism on the other hand is about the experience. Through a process of education and providing adequate information, it assists creating understanding for all parties involved. It can therefore be defined as an advanced customer care.
In the past there has been a focus on a disability rather than the abilities of an individual, but I believe this has had a negative effect and placed barriers to those with disabilities to access experiences in the adventure industry. Adaptive programs have been the norm for so long that we have forgot the "choice factor" of individuals traveling solo (or with friends and families) to be able to just show up and enjoy an experience.
Every ability is different as is the environment so it is very difficult even for the most experienced operator to understand the full potential of their product in relation to the ability of their client. Industry advisors, like us at the Makingtrax Foundation, provide awareness of the possibilities, whilst keeping it safe, cost effective and most importantly fun and rewarding for all involved. Although most adventure environments are not accessible and may never be, they can be inclusive. The future of inclusion in adventure tourism can be bright, financially rewarding and make a valuable contribution to the ability of society to integrate and flourish if done right.
Choosing adventure over fear
Antonette Spaan, We12travel adventure and outdoor travel blog founder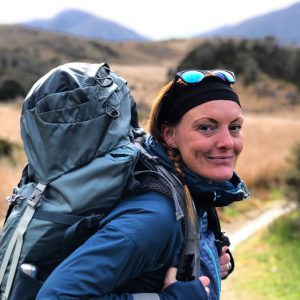 Antonette Spaan is a Dutch hiker, world traveler and writer. She has worked in the tourism industry since her late teens, after completing a study in tourism management. At the age of 35 she decided to leave her office job and make a living off travel blogging and hiking all over the world. Her blog We12travel is one of the longest running adventure and outdoor travel blogs in The Netherlands. In addition, she hosts a podcast for adventurous women and has various small niche blogs about New Zealand and hiking in her home region, The Veluwe. In October 2022 she will start hiking Te Araroa, New Zealand's 3.000-kilometer-long trail and will share her adventurous journey online with her followers. This will be her fifth trip to New Zealand, where she has left a piece of her heart ever since her first visit in 2001. She will be taking a break from the trail to attend ATRA and inspire you to choose adventure over fear.
"I wish I could do what you are doing" is one of the most heard sentences of the past five years of my life, together with: "you seem to be living the life of your dreams". And while I know how difficult it may sound to choose adventure over fear, it in fact can be much easier than you think. One of my favorite things to tell my audiences is "if I can do it, you can, too". Because to be honest, I've always been fearful of many things in life. Fear of loss, fear of death, fear of falling, fear of poverty and fear of loneliness are just a few of the fears I've known and still sometimes experience in life. They are well known fears to most of us and even though I hear them and honor them, I also decide to choose adventure instead.
If we decide to live in fear and stay well within the walls of our comfort zone, we will never know what's on the other side of fear and not be able to flourish. And yet I know, and with me many other adventurous souls in the world, that personal growth and happiness always lay on the other side of fear. But how to take those first steps to adventures? How to tame that inner voice that reminds you of what could possibly go wrong?
While we live our lives and dream of new adventures and maybe even pursue some of them, we sometimes seem to forget that life does not happen to us but life happens for us (quote from Tony Robbins). You may think that you have your life perfectly sorted out and then something happens that may completely blow you off track. Instead of wondering "why does this happen to me" (yes, I've thought that too, many times in fact) you can also wonder "what is life trying to tell me". When the pandemic hit in 2019 I was, just like all entrepreneurs in tourism, hit hard. No income, no job, no things to write about. My long looked forward expedition to Svalbard got canceled. We had to stay near our homes. Life got very simple and quiet.
However, I also had a big realization. If I want to do something, do it now. Maybe turning 40 that same year also helped, but I realized that there had been a dream of mine in the back of my mind: hiking a 3.000 kilometer long trail through New Zealand. With almost no income and not knowing when New Zealand would open again, I decided to start planning my trip. By now, summer 2022, I've booked my flight and have saved enough money for my trip. In the meanwhile I also got asked to leave my cabin in the woods which was my safe haven during the pandemic and I am living out of an old Volvo while driving through Scandinavia and writing a book about Sweden. I left behind all securities of having a home for the second time in five years, not knowing what's waiting for me every single day. But you know what, waking up every single day being able to choose another adventure feels like the best freedom I've ever known.
By gathering a passive income flow through my blogs, podcast and books, I've created freedom to every day again choose what adventure I'm going to experience that day over a cup of coffee in the morning. Looking back at all the decisions I've made over the past five years, I realize "well that wasn't too hard." Sure, the things happening for me have been difficult and painful, such as losing my dad, seeing the world close down, or having to leave my beloved cabin the woods. However, during my talk I will tell and hopefully inspire you how I managed to choose adventure over fear, every day again and again and how you can learn this, too. Because no matter how small or big the adventure, choosing adventure means choosing to flourish. And to flourish is to live a life beyond your wildest dreams.
Industry integration discussions
Theory to practice
Tim Barke began his career SCUBA diving at the age of 16 (guiding and then instructing) in the Bay of Islands where he grew up. Over the next 30 years he completed a Bachelors Degree in Parks and Recreation Management (majoring in tourism management) and continued to build his knowledge and experience base managing a variety of businesses in NZ, Canada and the UK. Most of these were adventure tourism focussed including game fishing and maritime charter and cruises, wilderness hunting and fishing, helicopter and fixed scenic flights, heli and alpine skiing, mountaineering and glacier experiences, white water rafting, sea kayaking, and trekking. In his current role as General Manager of Lake Wānaka Tourism has enabled him to help design and reformat the direction and purpose of the visitors industry in order to protect, benefit and enhance the natural resources, environments and communities which visitors enjoy.